Business Hours:
Monday: CLOSED
Tuesday – Saturday : 11am – 4pm
Sunday: 11am – 4pm
We are CLOSED Thanksgiving Day!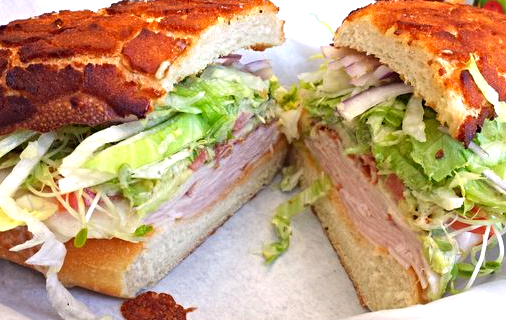 We are a sandwich shop that serves delicious sandwiches infused with our signature garlic spread (aka "Grub sauce") located in the beautiful Outer Sunset neighborhood of San Francisco.
Our menu is inspired by grub-worthy food where the taste and quality stands for what we believe in. All sandwiches are made to order and handcrafted on freshly toasted bread topped with Grub sauce. And oh yeah, grub on some tasty sides while you're here. We dare you to.
Call or order online for pick up, or order online for delivery! For large orders or for future events, please call or send us a message through our contact form below.
Choice of Bread: Dutch Crunch, French Roll, Whole Wheat Roll, Sourdough Roll

Everything: All sandwiches come with lettuce, tomato, red onion, mayo and Grub sauce
Free Add-ons (upon request): Pickles, Pepperoncinis, Jalapenos

Grubbin' It
Pastrami, Smoked Ham, Salami, Bacon, Sprouts, Cheddar Cheese, Pesto Aioli, and Grub Sauce
Juicin'
Turkey, Bacon, Avocado, Sprouts, Provolone Cheese, Pesto Aioli, and Grub Sauce
Droolin'
Pastrami, Salami, Pepper Jack Cheese, Spicy Aioli, and Grub Sauce
Spicy Mouth Waterin'
Chicken Tenders, Spicy Aioli, Ranch, and Grub Sauce
Sweet Mouth Waterin'
Chicken Tenders, Honey Mustard, Ranch, and Grub Sauce
Savorin'
Roast Beef, Smoked Ham, Swiss Cheese, Thousand Island, and Grub Sauce
Lickin'
Corned Beef, Swiss Cheese, Sprouts, Thousand Island, and Grub Sauce (Limited Quantities Daily)
Kickin'
Roast Beef, Bacon, Pepper Jack Cheese, Wasabi Spread, and Grub Sauce
Crunchin'
Cucumber, Avocado, Sprouts, Pepper Jack Cheese, Cheddar Cheese, Pesto Aioli, and Grub Sauce
Tastin'
Eggplant, Avocado, Sprouts, Pepper Jack Cheese, Cheddar Cheese, Pesto Aioli, and Grub Sauce
Meltin'
Tuna, Cheddar Cheese, and Grub Sauce
Fishin'
Fish Fillet, Cheddar Cheese, Tartar Sauce, and Grub Sauce
Grilled Cheese
Choice of Bread, Choice of Cheese
Build Your Own Grubbin' Sandwich
Spreads
Extra Grub Sauce, Mustard, Deli Mustard, Honey Mustard, Honey, Spicy Aioli, Wasabi Aioli, Pesto Aioli, Ranch, Jalapeño Ranch, Thousand Island, Buffalo Sauce
Meats
Pastrami, Roast Beef, Salami, Smoked Ham, Turkey (Choose One)
Cheeses (Surcharge)
Pepper Jack, Provolone, Swiss, Cheddar
Extras (Surcharge)
Meat, 3 Pieces of Bacon, Avocado, Cucumber, Pineapple, Sprouts
Fries
Small / Large
Tater Tots
Small / Large
Grub Fries
Garlic Fries (Surcharge for Tots Substitution)
Chicken Nuggets
Ten Pieces. Includes 2 Dipping Sauces: Ranch, Honey Mustard, BBQ, Buffalo, Spicy Aioli (Additional Sauces $0.25/each)
Chicken Tenders & Fries
Includes 2 Dipping Sauces: Ranch, Honey Mustard, BBQ, Buffalo, Spicy Aioli (Additional Sauces $0.25/each)
Naked Wings
Small (6 Pieces) / Medium (9 Pieces) / Large (12 Pieces). Includes 2 (S) / 3 (M) / 4 (L) Dipping Sauces: Ranch, Honey Mustard, BBQ, Buffalo, Spicy Aioli, Bleu Cheese (Additional Sauces $0.25/each)
Grub Wings
Small (6 pcs) / Medium (9 pcs) / Large (12 pcs). Choice of Flavors: Buffalo, BBQ, Honey BBQ, Sweet Chili, Lemon Pepper